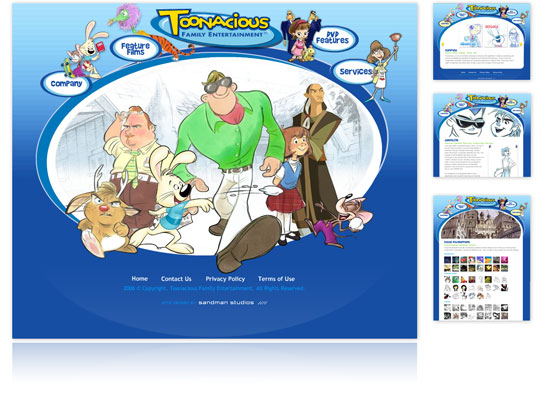 Toonacious
INSIGHT& SOLUTIONS
Challenge
Toonacious is an animation studio in LA comprised of former Disney animators. They wanted a web site that would highlight their artistic ability as well as the animated properties they are developing.
Insight
Animated content is represented well using Flash. At the same time, search engine friendly content is an important factor for a smaller studio who is constantly trying gather industry awareness.
Approach
Once a overall layout look and feel was approved, all content was organized as standards based XHTML. Then, using the XML parsing engine in flash, HTML text and hyperlinks were imported and distributed into the layout.
Results
Toonacious was able to take control of their web site on time, and on budget. Not only were they satisfied, they were excited that they could edit their own content using Dreamweaver instead of Flash.