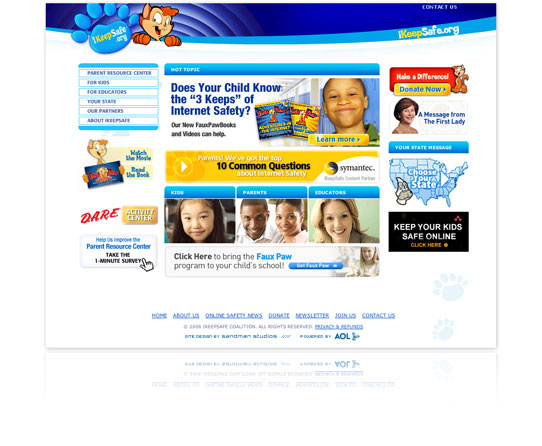 iKeepSafe Coalition
INSIGHT& SOLUTIONS
Challenge
The iKeepSafe Internet Safety Coalition was shifting its focus from solely educators, to parents, families and grandparents. They needed a web site that would allow them to fulfill their growing needs.
Insight
Parents that return often to a particular web site, are often looking for how-to information. They want easy to read and understand instructions as well as up-to-date content that applies to their situation.
Approach
A dynamic PHP / XHTML / CSS based front end was generated to house CMS managed content, images, and flash based navigation.The information was organized to allow different interest groups to quickly and easily find targeted information that would meet their needs.
Results
iKeepSafe continues to grow and aggregate content to their site. Successful surveys and studies have increased their donations and volunteer base.