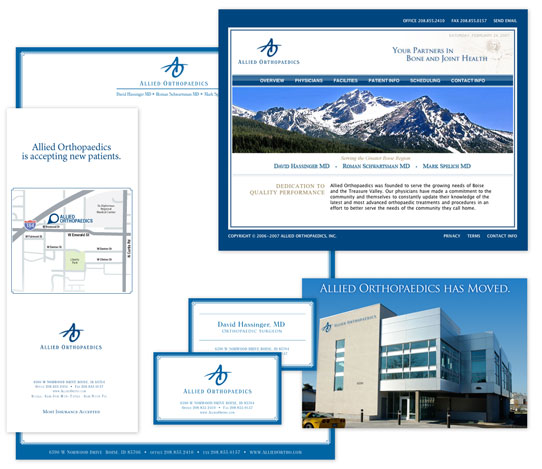 Allied Orthopaedics
INSIGHT& SOLUTIONS
Challenge
Allied Orthopaedics is a recent partnership of three surgeons in the Boise Idaho area. In conjunction with the completion of their new building, a brand new identity needed to be ready on time.
Insight
Though a small practice, a cohesive look across marketing materials will identify their presence in the community and differentiate them from competitors.
Approach
Striving to achieve an essence of simplicity and trust, the logo and supporting collateral are organized and free of clutter. One partners particular love of blue became a driving theme, providing a strong, stable background.
Results
Allied Orthopaedics is extremely happy with their new image and the response from their patients and colleagues. Each element within the identity package reflects their desire provide top-level care and dedication to each of their patients.