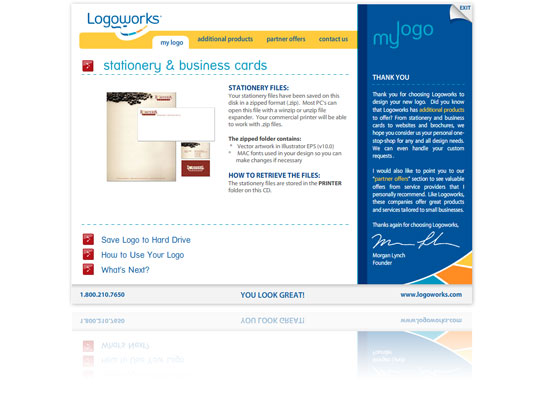 LogoWorks
INSIGHT& SOLUTIONS
Challenge
Despite a successful re branding of company identity and collateral, the marketing team continued to distribute a 4 year old CD-ROM at the completion of each client project.
Insight
The existing layout was not only dated, but many features and tools were hard to access, leaving some elements unseen.
Approach
The key ingredient to this CD was to simplify the navigation. Each section was divided by priority, and given a consistent look and feel. Action items were brightly colored and organized to invite the user to click in organized fashion.
Results
By unifying the style of the page, a users may now better understand how to download, use and market their business with their new logo. Now, Logoworks own brand consistency positions themselves as an invaluable resource for the design conscious small business owner.